Our World Famous Resort has 32 Private Villas overlooking 400 feet of white sandy ocean beach just half a mile north of the Marriott Hotel and enjoys a Spectacular Ocean Sunset view. With Palm trees surrounded, the Villas have lush tropical gardens of flowering plants and shrubs and grassy courtyards. Only 75 small steps to the Ocean from our Villas Decks.
Currently Our No Charge Extras List Includes:
Free Wi-Fi Internet
Beach Lounge Chairs & BBQ Grills
Free Windsurfing for experienced windsurfers (Jan. 7-April 15, 2024) with direct bookings only, equipment must be booked with room reservation.
In addition to our New Pool and sun deck we have a spacious beach area for lounging to relax and enjoy the warm sunny days, the ocean sunsets or at night simply gaze at bright starry skies.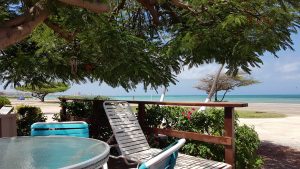 We offer a choice of ocean, courtyard and pool side, studio, one and two bedroom villas.
All 32 relaxing villas have white tiled floors, tropical fabrics, kitchenettes, showers, maid service, air conditioning and 45 channel cable TV. Most have private decks or balconies and charming courtyards.
The Villas office lobby has a refreshment bar and an assortment of local souvenirs and T-shirts. In addition to English
our office staff also speaks Dutch, Spanish, French, Portuguese and German.
BBQ grills, WI-FI Internet. Discount on windsurf and kitesurf equipment rental. Drinks & snacks available at the front desk. Swimming pool.